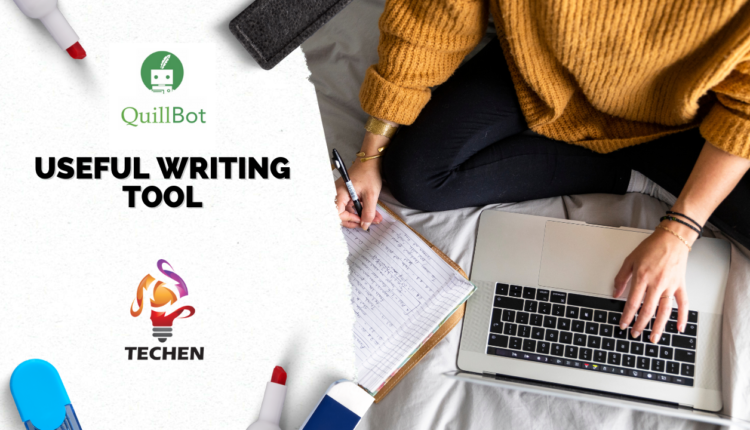 Quillbot | a Useful Writing Program
Quillbot was designed to help people rephrase their writing, and that is still its primary function today. As a form of artificial intelligence, it rearranges words and phrases within sentences and replaces others to create new meaning in the original text.
Quillbot was designed to help people rephrase their writing, and that is still its primary function today. As a form of artificial intelligence, it rearranges words and phrases within sentences and replaces others to create new meaning in the original text.Yet it has developed into far more than that. We're especially curious about the grammar checker, which looks for grammatical errors alongside typos and spelling flaws in your work.However, this is not the end of the story. The following are some of the tools that Quillbot offers:
This is the tool for rephrasing.
A grammar checker
A tool for detecting plagiarism
The co-writer, who is responsible for bringing the various other tools together.
The summarizer
A citation generator
Anil Jason, Rohit Gupta, and David Silin laid the groundwork in 2017 for what would become Quillbot. Since then, it has been popular as an efficient and inexpensive tool, to which new capabilities are continually being added.
Quillbot's price, which is quite reasonable for any kind of tool that boasts AI integration of any kind, is maybe the feature that stands out the most as being the greatest. There is a significant cost differential when compared to prices for other AI solutions such as Jasper AI.
How much does it cost to buy Quillbot?
The premium edition of Quillbot is available in the following tiers: Basic, Advanced, and Ultimate.
Does Quillbot have a free plan?
There is a free version of Quillbot that is very helpful. The free version of Quillbot gives you access to many of the tools, but not the plagiarism checker. You can only use them a certain number of times.
But I've already found that the free version is enough to paraphrase short bits of text or check my grammar on something small.
Features of Quillbot Premium Account
Now that we know what the software is and how much it costs, we can look at the features that Quillbot offers and decide if they are useful for authors.
The tool for rewriting or paraphrasing is like other tools in the same field. Basically, it changes the order of the sentences in your text and changes a few words here and there to make "fresh" text.
If you want to avoid being caught by plagiarism checkers, this is a good way to do it.
Disclaimer: We do not in any way support plagiarism, even if you use a tool like this one to change it. Instead, this can be a useful tool for rewriting something you've written if you don't like how it sounds or for reusing your own content for social media.
When I tested the tool, I found that it works well enough for short paragraphs of text, especially if you are willing to make a few changes. Often, there are a few sentences that don't make sense.
It will also work if you are writing fiction, but I find it a little more awkward than, say, a nonfiction article or an academic paper.
You can also choose from different speech styles in Quillbot, and the paraphraser will adapt to those ways of writing. Some of these styles are:
Standard
Fluency
Formal
Simple
Creative
Expand
Shorten
Not perfect, but it could be useful when you have a paragraph with too many words and need to shorten and rewrite it.
This is great for rewriting short passages, but if you want to rewrite a lot of articles or make them sound different, you might want to try Spinner Chief, WordAI, or Chimp Rewriter.
The grammar checker is another great tool that authors will find very useful. Like the other features, it is powered by AI, which can help you find the most common ways to use grammar in that style.
I compared it to ProWritingAid and found that they both caught a lot of the same mistakes. But ProWritingAid caught a few more, and Quillbot doesn't color-code problems based on what kind of grammar they are. On the other hand, ProWritingAid did a much better job of telling me exactly what kind of grammar mistakes I had made.
Still, I give this feature a big thumbs up for making an effort. And it's still better than what MS Word has built in.

The Quillbot plagiarism checker is great for students and writers who post their work online. It quickly found anything that looked even a little bit like someone else's work.
But even if you have a premium account, you can only view 20 pages per month. If you only need this for an occasional paper, that's fine, but if you write for a living, that's not even close to enough.
You can buy more pages, but why would you pay more for something you already bought?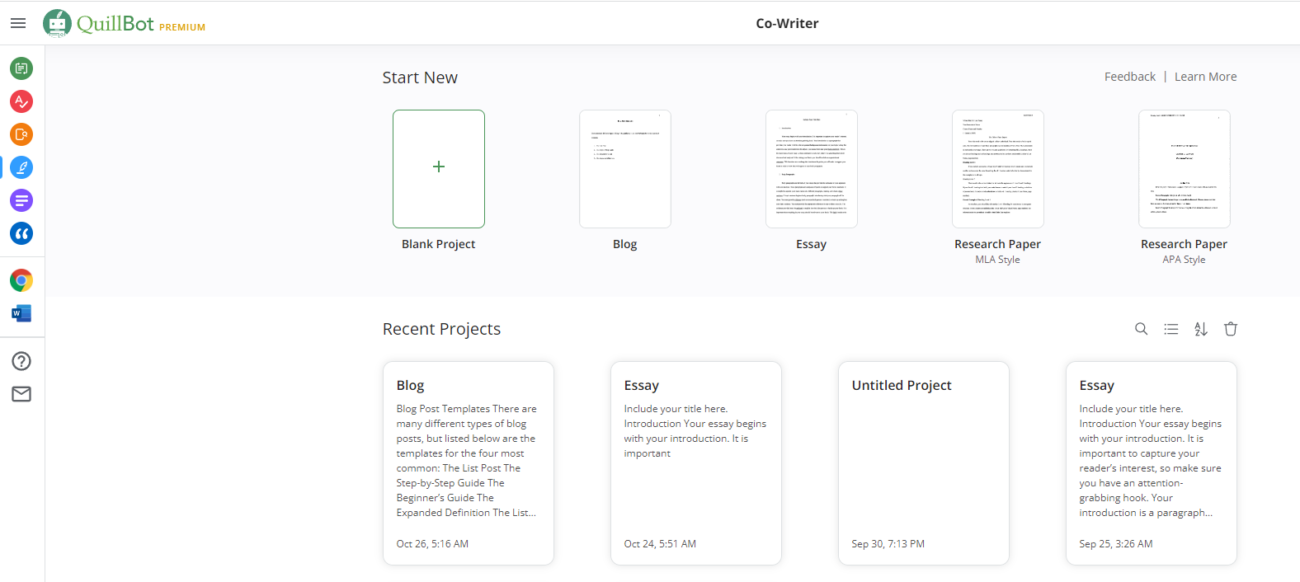 The co-writer is a tool that lets you put all of the other tools into one outlet.
It has a basic word processing window where you can write your article or essay, as well as tools for paraphrasing, summarizing, citing, and more, all in one place.
You can also save these files in the cloud, which is a useful feature.
The research tab is another great thing about the co-writer. It lets you look up any topic on the web and gives you a summary of each article that comes up for that topic. It's a great way to get an overview of the topic and maybe figure out what the most important things are to talk about in an essay or article about it.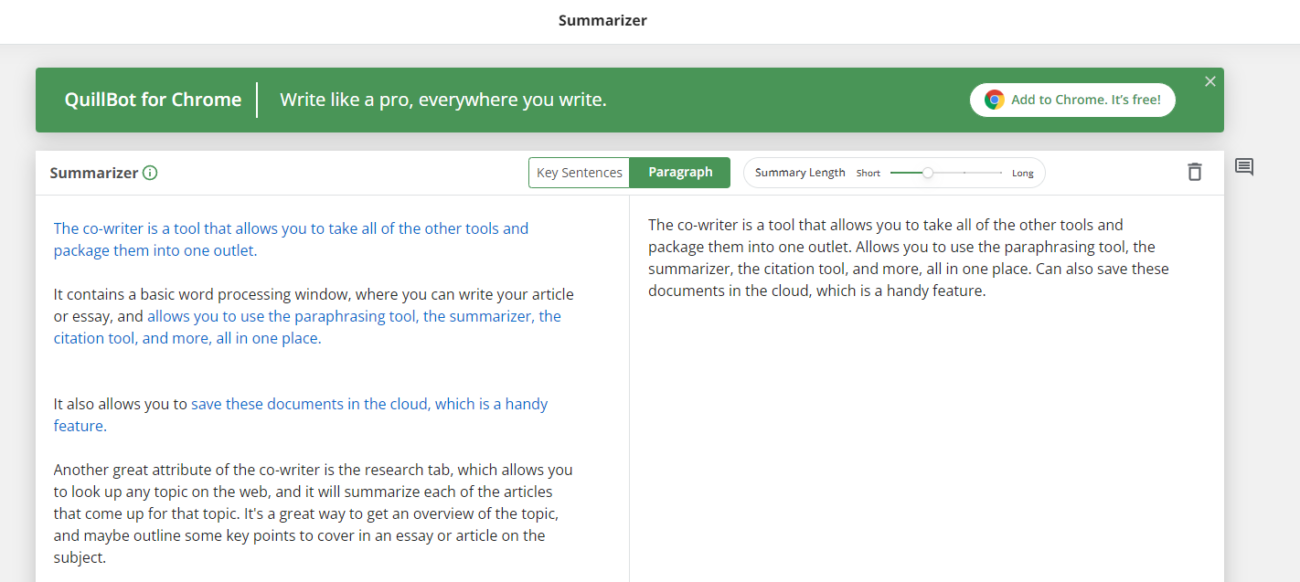 The summarizer is another AI-powered tool that Quillbot uses to pull out the most important parts of articles, papers, and other documents.
I thought this was very interesting because it can help you figure out which phrases are the most important in a block of text. You can either pick out the most important sentences or write a paragraph that sums up everything.
But I'm not sure if most authors really need to do this. In a book description, we do need to sum up our books, but the way to do this is very different, so this text summarizer wouldn't be the best choice.
Also, the free version of the summarizer can only handle up to 1200 words. The paid version can handle up to 6000 words. The fact that the premium version has any limits at all is a bit disappointing.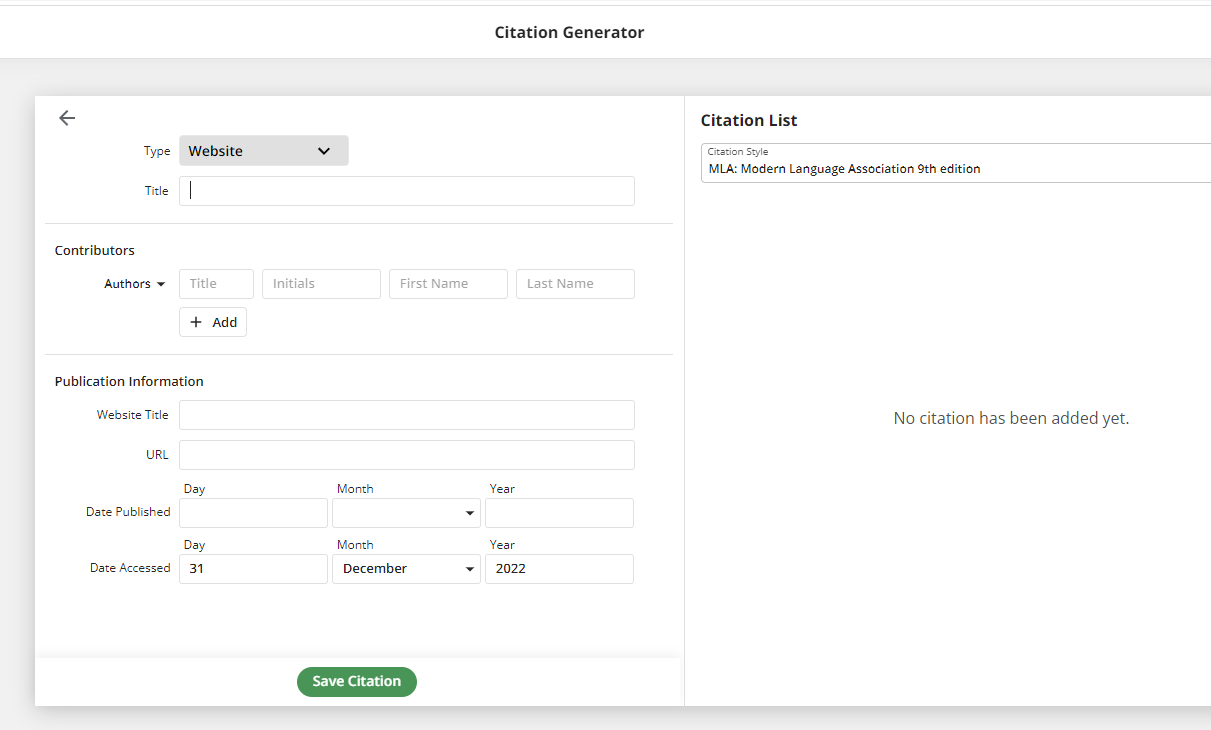 The citation generator is another useful tool, especially if you need to give credit to your sources when writing nonfiction or an academic article.
Quillbot makes it easy to cite a book or article. Just type in the name of the book or article and the style of citation you want, and it will do the rest.
But while this is helpful, there are many free tools that do the same thing, so I'm not sure how much it improves the product as a whole. Still, when added to everything else, it can save a lot of time.
If you have the premium version, you can compare different versions of your text in the paraphraser. This lets you see several examples and choose the one you like best.
This is helpful if you don't know what the text means or just want to see more examples.
You can get a Quillbot extension for many different kinds of software. I mostly used the web-based tool.
Quillbot has add-ons for the following items:
Google Chrome
Microsoft Office
Google Docs 
The Chrome extension was simple and easy to use, and it worked with most of the places where I write online, like WordPress and Atticus.
Quillbot will be very helpful for you if you often need to rewrite certain topics, like summarizing a chapter, writing the introduction to a blog post, or summarizing an academic paper.
For example, the tool can help if you want to reuse some of your content and rephrase it without having to think about it yourself. The same is true for the tool for summarizing.
But I like ProWritingAid much better as a grammar checker and for long-form content, so it is still my top choice.
Quillbot is not just a grammar checker, so authors may still be able to use it for something good. Just don't use it to check for mistakes.
Quillbot's grammar checker does a decent job, especially considering it's free. Quillbot is an affordable option for students who need an affordable way to check their papers.